Hear me out. I have reason to believe Big Tech has established an over-leveraged short position in Backbone.js. If we all migrate to Backbone.js and refuse to ever migrate off, it'll create a massive short squeeze on their tech debt that they won't be able to recover from. #💎✋
---
Hot or Not? -- ES2021 Edition
When you finally make it into the Spec
Coming soon to an IDE near you: ECMAScript 2021 / ES12 / Nü-Script (k, we made that up). The latest version of JavaScript is all set to be released in June, and we'll see five TC39 proposals finally get their wings and be officially added to the Spec.
Quick review on TC39 process: Proposals go through a 5-stage process (numbered 0-4, because of course it is), with each stage requiring an additional level of approval and commitment from members of the TC39 committee. The amount of time required to clear all 5 stages can vary widely -- some proposals are approved in months, others get stuck on one or more stages for years at time (kinda like a game of Phase 10 from hell).
We'll run through all five new features and give each one a hotness rating on a scale of 1-5 🔥. Why? Because we've been watching too much Bachelor/Bachelorette in quarantine like everybody else.
The Bottom Line
Remember the days when we'd get new JavaScript features every 5 years? Glad we figured that out.
---
/r/JavaScript becomes an angsty teen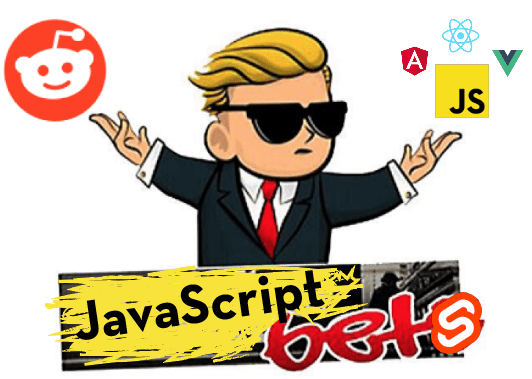 Which framework are we pumping today, folks?
The subreddit that everyone's talking about... /r/JavaScript (obvi), turned 13 years old last week! When John Resig (creator of JQuery) started the subreddit back in January 2008, it was just a few web OG's posting random JavaScript links. Today it's up to 1.4 million members who... mostly post random JavaScript links.
To commemorate the milestone, here are a few r/JavaScript highlights through the years.
The first post: A list of job openings for JavaScript, JQuery, and Ajax developers, posted by John Resig. Not sure if these folks are still hiring, but if you're looking for a killer Ajax role, it might be worth reaching out via the hotmail email address they listed in the description.

The most upvoted post: A fun gif that uses two coffee cups to demonstrate the difference between pass by reference and pass by value. Posted 3 years ago by u/mburakerman.

The most commented-on post: "Nobody talks about the real reason to use Tabs over Spaces" by u/ChaseMoskal, predictably had a lot of people ready to fight to the death in the comments for their beliefs.
Look how far we've come, together 💖.
---
🔥 Tip - Get the current URL in JavaScript
Simple enough. If you're using JavaScript in the browser you can get the full current URL by using window.location.href. I think it's also worth noting that window.location has a bunch of different properties on it that may be of use to you as well.
Let's assume this is the current URL we're on
These are all the properties that window.location gives us.
---
Cool Bits